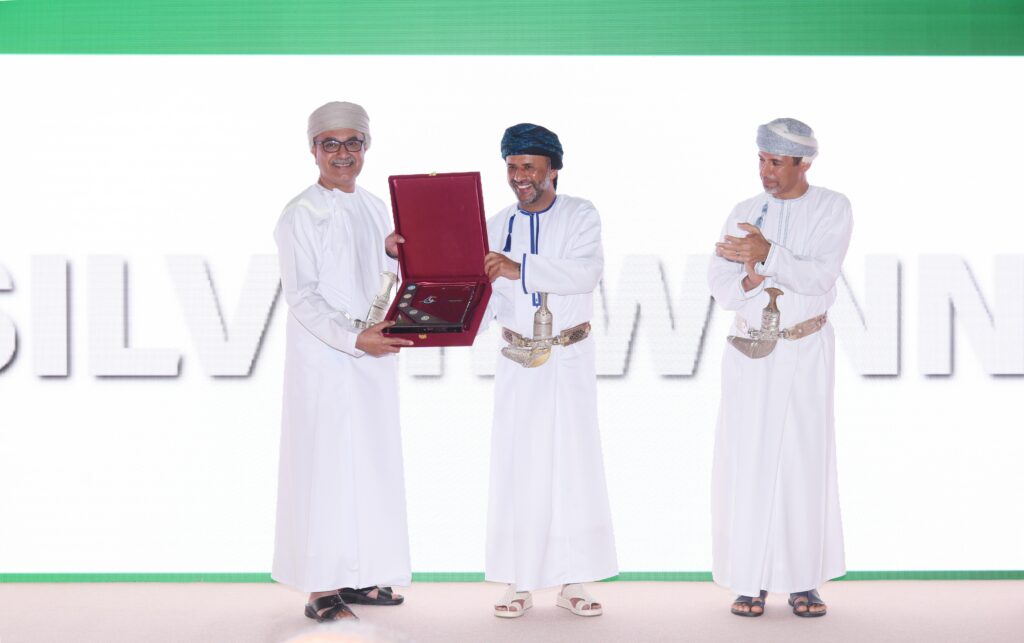 MUSCAT – Bank Muscat was honoured at the Oman Sustainability Week Awards held recently at the W Hotel Muscat. The Bank received the Silver Award for its stellar efforts in Sustainability from the Chief Guest, His Highness Sayyid Dr. Fahad Bin Al Julanda Al Said. Sheikh Waleed K. Al Hashar, Chief Executive Officer, Bank Muscat, received the award on behalf of the Bank at the ceremony, which was attended by a number of their Excellencies and senior executives from some of the top institutions and corporates in Oman.

Oman Sustainability Week is a national platform that aims to highlight Oman's commitment to leadership in sustainability through innovative strategies, which are aligned with the United Nations' Sustainable Development Goals (SDGs) and the landmark Oman Vision 2040. It engages stakeholders in national development to present a new model for sustainable development. The week-long event comprises the Oman Sustainability Week Expo, Oman Sustainability Week site visits, International Sustainability Resources & Technology Conference and the Oman Sustainability Awards event, bringing together key stakeholders including policy makers, sustainability experts and industry leaders to focus on sustainability as a national objective.

The Awards provided a platform for the participating organisations to perform a situation analysis, mapping out their current sustainability status in comparison to industry peers and identifying medium and long-term risks and opportunities. Some of the other benefits included in-depth evaluation by highly specialised sustainability assessors, introduction to self-assessment tools and assessment methodologies offered through a specially designed online platform.

Speaking on the occasion, Sheikh Waleed K. Al Hashar, Chief Executive Officer, Bank Muscat, said, "We are delighted to receive this prestigious award, which reconfirms Bank Muscat's pioneering role in promoting sustainability in Oman. By aligning to Oman Vision 2040, the Bank has a roadmap to generate and make maximum use of opportunities, which promote economic competitiveness, social well-being, growth and development, and reflecting positively on socio-economic development. As a leading financial services provider in Oman, Bank Muscat works to ensure sustainability across its operations, and also to serve the Omani society through various programmes and initiatives. The Bank will continue to move forward with its strategy of strengthening cooperation and partnership with various government and private sector institutions, in line with the latest sustainability trends, both at the local and international levels."

It is worth noting that the Bank's sustainability strategy aims at delivering long-term benefits to the nation. Today, the widespread adoption of renewable energy is a key part of creating a green economy in the Sultanate, and Bank Muscat has been playing its part in making large-scale adoption of renewable energy possible by the general public by offering Green Finance, Oman's first environmentally-friendly finance product, for installation of residential solar panels. Bank Muscat is also committed to adapting its business operations to incorporate sustainable practices like replacing lamps with LED lights, managing Greenhouse Gas emissions, and reducing water and paper consumption as well as electronic waste. Earlier in 2018, Meethaq Islamic Banking installed rooftop solar panels at its Al Khoudh branch which was the first branch in Oman running on renewable energy.

Bank Muscat is currently running about 10 long term Sustainability and CSR programmes serving different segments of society. These include the landmark Green Sports programme, the Tadhamun program, which provides household appliances to social welfare families, the Jesr Al Mustaqbal programme, which provides scholarships to young people from social welfare families and the Al Wathbah SME Academy, which equips Omani entrepreneurs with business skills and help them acquire internationally-accredited certification.