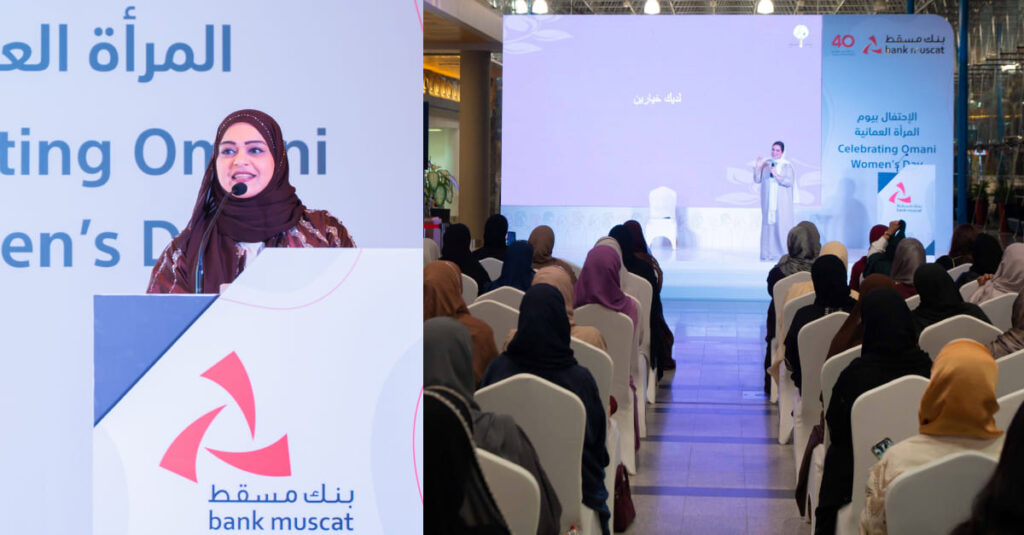 MUSCAT – In line with its commitment to community service and sustainable development, Bank Muscat, the leading financial services provider in the Sultanate of Oman, hosted a special event at its Head Office at Airport Heights on the occasion of the Omani Women's Day which falls on October 17 every year. The event was attended by Ilham Murtadha Al Hamaid, General Manager – Corporate Banking, Bank Muscat and included a special lecture titled "Choose your destiny" by Rehab Sharif, a well-known personal development coach.

On this occasion, Ilham Murtadha Al Hamaid, General Manager – Corporate Banking, said: "The Omani Women's Day is an important occasion which allows us to shed light on the essential role and the efforts of women in building our society and family. By celebrating this day, we are able to shed light on their various achievements and contributions socially, economically and culturally." She added that it was a proud occasion which is reflected on Omani society. She also expressed her happiness at the fact that female employees now constituted over 50 percent of Bank Muscat's 3,800 employees and that they work across different departments and at all levels including the bank's Management Team.Ilham Al Hamaid added that the Women's Day celebrations at Bank Muscat provided an opportunity for everyone to express their appreciation and pride in their efforts, successes and achievements. Omani women play an important social role as mothers who bring up the next generation in the best traditions and heritage of Omani society. On top of this they have an important role at the workplace in ensuring that they support the progress of the country along with their male brethren.
Bank Muscat has been keen to empower Omani women through jobs as well as training and learning opportunities. Thanks to an exemplary work environment based on fair and equal opportunities to all, state-of-the-art technology and global best practices in the financial services sector, women have been able to contribute more and more to the bank's progress and successes in the past decades.
Women constitute a large number of its customers too and hence, the bank offers many services and facilities to women customers in such a manner so as to enrich their lives at all levels. For example, Bank Muscat Najahi provides valuable support to women entrepreneurs in terms of supporting and developing their projects. The bank's Al Wathbah Academy also provides them with training opportunities to grow their business and at the same time participate in the support and development of the national economy. Driven by its vision of serving the people of Oman better every day, Bank Muscat continues to actively nurture and support Omani women so as to play its part in the progressive march of the nation across all realms.