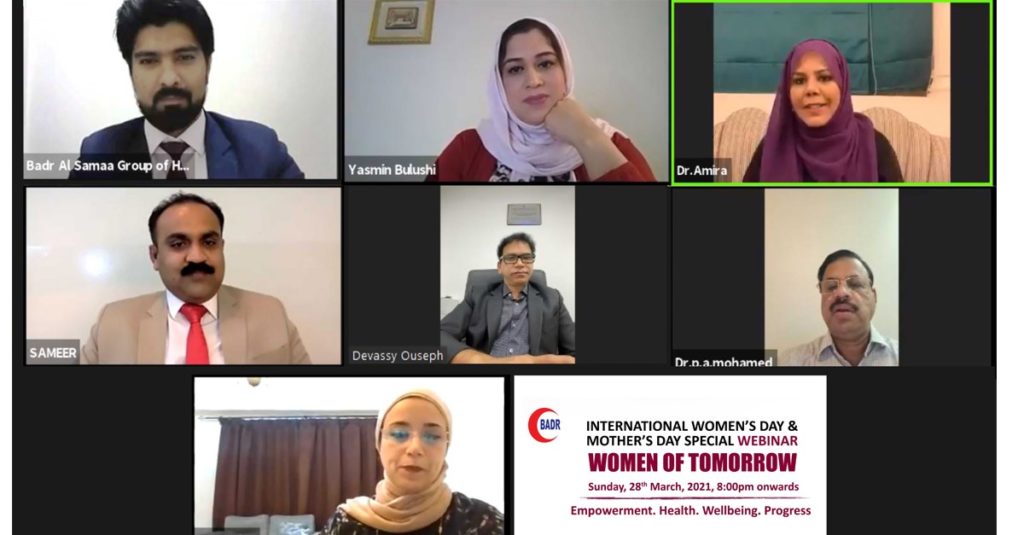 MUSCAT – To mark International Women's Day and Mothers Day, Badr Al Samaa Group of Hospitals organised a special webinar, Women of Tomorrow, to call for change and to celebrate acts of courage and determination by women. The motivation behind this was to uphold women's achievements, raise empowerment and focus greater attention to women's wellbeing.
Dr Amira Raidan, Head – Mental Health, Non-Communicable Diseases Department, Ministry of Health was the chief guest and Dr Yasmin Al Bulushi, Project Manager for "Eitmad", National Leadership Project, Ministry of Labour was the guest of honour of the event. The event was attended by managing directors, senior management, doctors and staff of Badr Al Samaa and people of the Sultanate especially women.
In his welcome address, Sameer P T, Group CEO said private healthcare sector of Oman has brought great reforms to empower women and more than 70 percent of workforces in private healthcare sector are females. "Women are leading in many areas like clinical including diagnostics and critical care, quality accreditations, administration, etc. At Badr Al Samaa, we continually empower women for their better tomorrow" highlighted Sameer P T.
Dr P A Mohammed, Managing Director said "In the fight against COVID, female staff stood shoulder to shoulder with men. Their selfless efforts should be acknowledged and appreciated. He also said that anyone will be amazed to know that at Badr Al Samaa Group of Hospitals more than 60 percent of the workforce are females.
Dr Amira Raidan appreciated the initiative of Badr Al Samaa to acknowledge women for their exemplary work. She urged all ladies to have a good work life balance and focus on their wellbeing which will ultimately result in the wellbeing and progress of our societies and country at large. She appreciated healthcare sector works for their great effort during this pandemic.
Dr.Yasmin Al Bulushi said women are born leaders which is evident by their priceless contributions in family and at work. Women by birth have winning combination of traits like assertiveness, persuasiveness, risk taking ability, emotionally connected, good communication skills, decision making abilities and hard work. She said women have proven again and again that they are capable to do anything which should inspire more and more women to come forward and explore their true potential.
Dr Heba Tolba, Specialist Gastroenterologist and Hepatologist, Badr Al Samaa Hospital, Al Khoud presented a health talk on irritable bowel syndrome and PCOS. She said diet, exercise and certain lifestyle modifications help in dealing with these situations but before this once should have thorough evaluation with gastroenterologist.

Asif Shah, Head Branding and Communication who was also the host of event said it is appreciating to see how a woman fight the stereotypes in today's world and how she courageously and fearlessly face the challenges and rise successfully and become an inspiration for everyone. He also presented the special health screening packages which Badr Al Samaa Group of Hospitals launched to mark International Women's Day and Mothers Day.

K O Devassy, Chief Marketing Officer presented thank you note and appreciated all the panelists for their motivational and inspiring words on women empowerment. He said Badr Al Samaa Group of Hospitals always acknowledges the exemplary contributions of women and will organise more such events to celebrate their success.