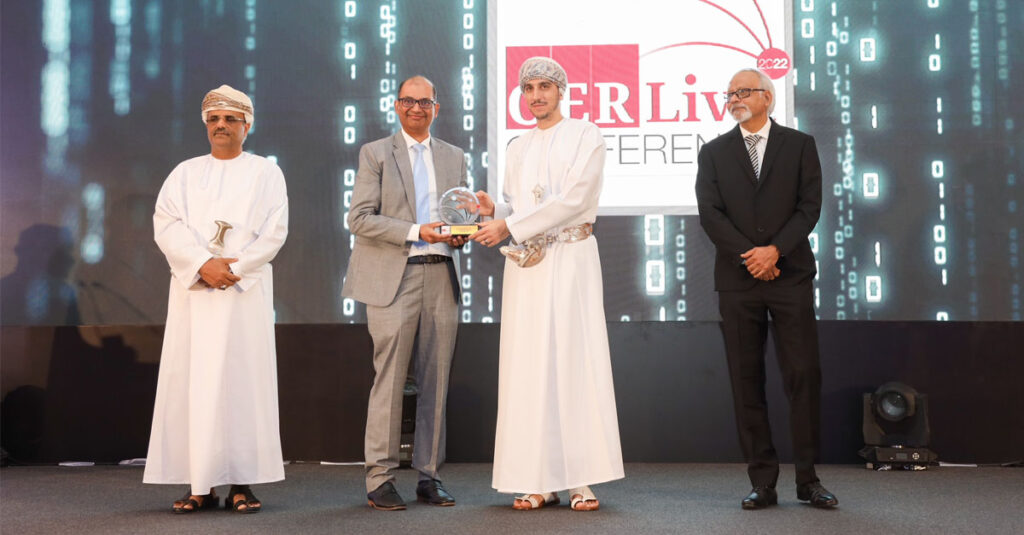 Muscat – Under the patronage of H.H. Sayyid Kamil bin Fahd bin Mahmoud Al Said, Secretary-General of Oman's General Secretariat of the Cabinet of Ministers, Alizz Islamic Bank was granted the 'FinTech Solution Provider of the Year Award' for its IFIN Instant Goods and Auto Financing', during the OER Live Digital Transformation Conference & Awards, held at the Sheraton Hotel Muscat, recently. The Award was received by Mr. Khondkar Mohammad RakibulIslam, Executive Manager of Products Performance at Alizz Islamic Bank.
The IFIN instant finance solution has been made available for auto finance at Nissan, Toyota, Infiniti and Mazda showrooms as well as for goods such as furniture, accessories and electronics at branches of Danube Home, Enza Home, Mustafa Sultan Electronics, Sofa Land and Fahmy Furniture. Alizz Islamic Bank customers are able to avail instant finance at any of the aforementioned merchant stores up to 120 months without the need to visit any bank branch. The process of availing finance has been simplified into a simple 10-minute process at the store's checkout counter, where the customer will go through an online verification process, receive an OTP on his/her mobile phone, and sign the finance contract followed by an immediate approval. The bank will purchase the goods desired by the customer from the authorized dealer and sells the same to the customer at an agreed price that is paid in installments. The advantage here is complete transparency because the customer knows the bank's profit margin and installment plan at the time of signing the contract. This arrangement allows for immediate ownership of the goods by the customer.
This instant finance service is part of the Bank's plans to provide a wide range of customized banking solutions that meet the needs of all customers looking for fast banking solutions. As one of the leading banks offering flexible digital transactions to its customers, Alizz Islamic Bank has realised people's increasing reliance on digital technology; it has, therefore adopted digital strategies that meet customer needs without compromising transparency.
IFIN is the world's first Sharia-compliant, multi-institutional, multi-product, multi-channel Islamic fintech solution facilitating instant Islamic financing at the retailer outlets. This game-changing solution is geared to redefine the way Islamic financing is being done, making it secure, quick and easy for everyone.
Since its inception in 2013, Alizz Islamic Bank has bridged the gap between customers and the bank using the latest technology solutions. The bank is committed to providing its customers with innovative financial solutions and responsive customer services via its corporate website, online banking, mobile banking, SMS, call center, ATM, ITM, and branch banking.