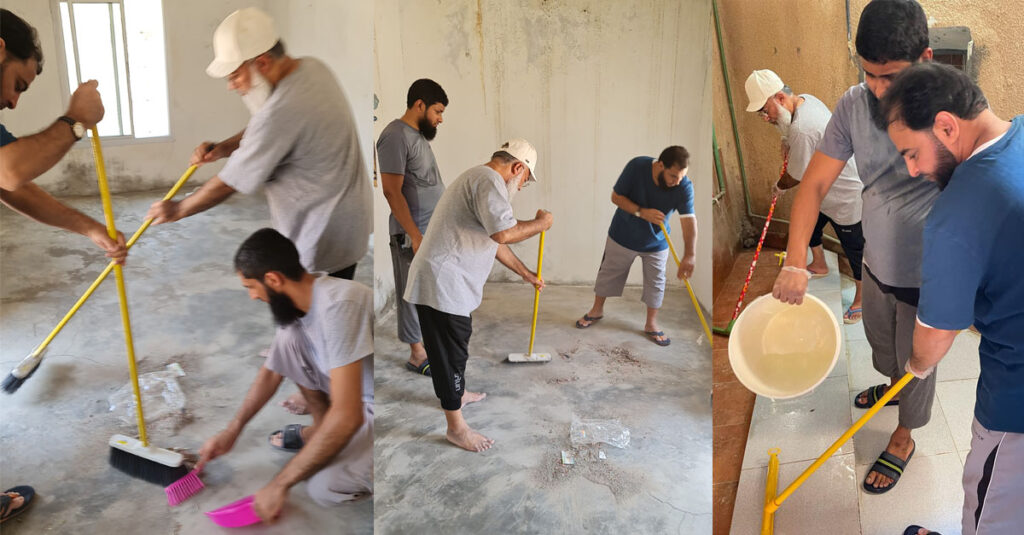 Muscat – The staff of Alizz Islamic Bank have begun pursuing various voluntary efforts aimed at extending personal initiatives and giving back to the communities around them. Within this framework, the Shari'a Audit and Compliance Department launched a voluntary initiative for cleaning mosques in Wakan tourist village, which is located 2,000m above sea level in Al Batinah South Governorate, with the participation of all staff of the Department.
The Bank has recently approved a prudent strategy that is applicable to its staff in all departments and branches across the Sultanate, whereby each department and branch is required to propose a voluntary project that reflects the Bank's commitment to its CSR initiatives through its staff; this initiative was rolled out under the direct supervision of the CEO. Likewise, the bank is encouraging competitiveness among the staff in giving back to the community by awarding the most innovative and beneficial initiatives.
Commenting on the cleaning campaign implemented by staff of the Shari'a Audit and Compliance Department, Mr. Issa Salem Al-Riyami, Head of the Department, said: "These voluntary initiatives reflect each individuals' commitment to the communities, as giving back to the community, regardless of the form or type of voluntary initiatives, has a significant impact not only on the individual but on society as well. This spirit shouldn't be limited to the employee's role within the organization, but rather should go beyond that. The bank's aim behind launching such initiatives was that each department implements its own initiatives, and this vision was already deliberated and approved after taking all perspectives into consideration and aligning them with the desired objectives".
Al Riyami added, "The bank invests in social responsibility in line with its mission to achieve exceptional and sustainable results for our shareholders. Since its inception, the bank launched several projects with the aim of providing a better life for the people we serve across the Sultanate, in addition to fulfilling the bank's commitment to the prosperity of the society. To that end, the bank offered the necessary support to charity organisations and proactive national organisations that aim to build strong and flexible communities. It has also contributed directly to the growth of non-profit social organizations".
Alizz Islamic Bank has launched various social responsibility programs, including supporting victims of the Shaheen Cyclone as well as offering accommodation and aid to our customers who were directly affected by the Cyclone. Recently, it launched the Iftar Sa'yim Campaign, for the eighth consecutive year, by distributing food packages among low-income families in the areas where it operates. It also supported the efforts of the Ministry of Social Development by providing students with the technologies they need to access online education platforms when schools resorted to online learning as a result of the Pandemic.