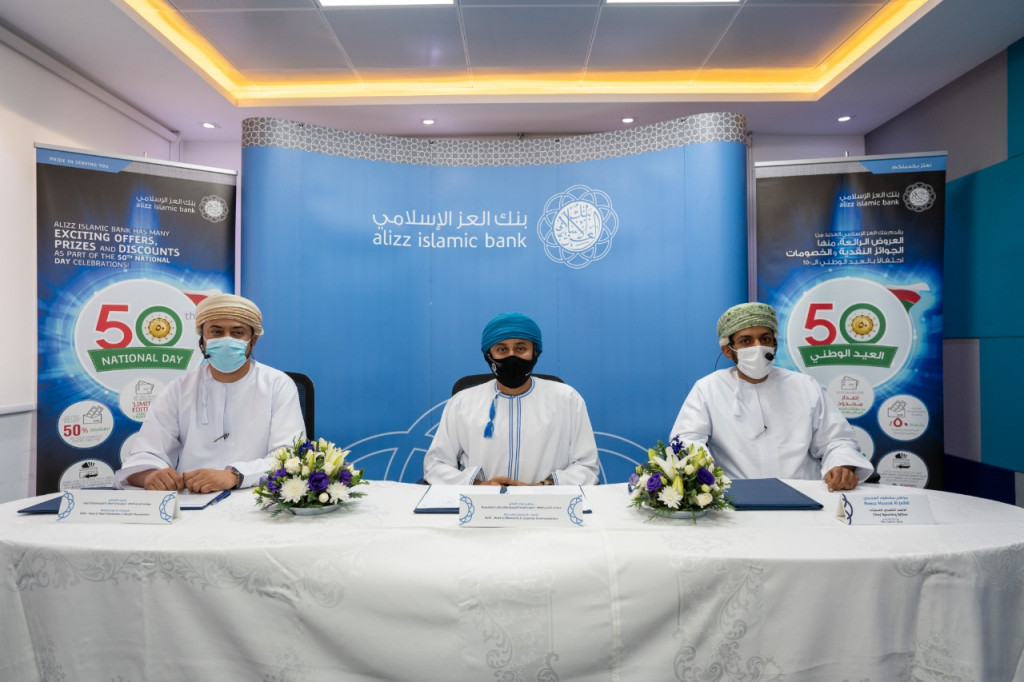 MUSCAT – Alizz Islamic Bank held the first virtual press conference in the banking sector for the various media institutions in the Sultanate, in the presence of Moosa Al Jadidi, Chief Operating Officer, Murtadha Jawad, AGM – Head of Marketing and Corporate Communications & Mohammed Al Ghassani, AGM – Head of Retail Distribution & Wealth Management. Several topics were discussed during the conference, including detailing the ongoing 50th National Day campaign that Alizz Islamic Bank launched in September, which coincides with the Sultanate's celebrations of the glorious 50th National Day.  The latest release of the bank's mobile app which includes many new features and services was also discussed.

Speaking about the campaign of Alizz Islamic Bank's 50th National Day campaign, Mohammed Al Ghassani said: "During the month of November, the bank will hold a special prize draw for Bushra Prize savings account with a total prize value of OMR 50,000 that will be distributed among 50 people with each winner receiving OMR 1000. All customers with a minimum amount balance of OMR 100 are eligible for the draws. During the same month, the bank will also hold the Bushra monthly draws for a cash prize of OMR 50,000 for one winner as well as a cash prize draw of OMR 25,000 for one winner. In addition to a special monthly draw for women in which 10 female winners have a chance to win OMR 1,000 each.  There will also be a special monthly draw for branches, where one person from each branch has a chance to win an amount of OMR 1,000."

Al Ghassani added, "To mark Sultanate of Oman's National Day, Alizz Islamic Bank has introduced special limited edition credit and debit cards. The cards have been embedded with the logo created to commemorate the 50th National Day. The first 500 people to transfer their salaries to Alizz Islamic Bank will receive OMR 50 and there is another OMR 50 for the first 500 customers who deposit OMR 5,000 or more in their accounts in Alizz Islamic Bank and maintain the net growth for 30 days"

Speaking about the updated mobile banking application, Moosa Al Jadidi said, "Alizz Islamic Bank continues to innovate and roll out new and exciting features for the mobile banking application. The latest update will include many benefits and direct services that make it easier for customers to conduct their banking transactions easily. The app enables customers to access and control their finances no matter where they are without having to visit their branches. It offers them the flexibility and ease of conducting banking transactions electronically. Our app has received a positive response from various segments of society. "
Al Jadidi added that during the National Day campaign period Alizz Islamic Bank launched a 5 percent cash-back campaign when using its app to pay bills, as well as 5 percent cash back when using its credit card for Groceries, Clothing Stores, Petrol Stations and Pharmacies. In addition, a 50 percent discount will be extended on the monthly fees for the credit card.
He said, "The first month of this campaign received a positive response due to the benefit it offers customers through saving and reducing spending. The discounts and cash prizes we are offering are an affirmation of the importance we render to community participation in celebrating this national occasion and extending to customers what they deserve at all times."