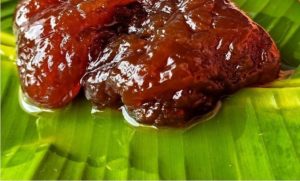 By Priya Arunkumar
It was always a balancing act.
A tough one to learn and master when you are just eight! A small strip of a banana leaf, or sometimes on a translucent sheet of paper, the melted hot ghee and the sliding, running, dancing scoop of hot halwa… the undisputed sin sweet for all those sweet toothed!
I could gobble down a kilo of it easily, in spite of my tiny stature.
A crowded street, one small shop, age no bar… standing in queue with one commonality: tongues licking lips in anticipation of a heavenly sweetmeat!

An unforgettable happy spot of childhood forever etched in memory…
A trip to Madurai or Nellai (Tirunelveli) along with my dad were episodes of sleepless excitement, from the movie plan to the temple visit and of course the sweet hot treats at the end of the day, before we catch our train back home and not to forget the fresh jasmines too.
A whiff of ghee even today brings up the nostalgic taste of the halwa.
The Iruttu Kadai halwa as it is popularly known is and will be one of the favourites for thousands of halwa addicts. Over the years I have tasted hundreds of halwas, different regions, different flavours and ingredients; nothing can match this experience!
Nothing ever comes close!
The uncle who sat on the counter used to humour us saying, "The secret of the recipe is the running part… when the halwa does not stick to the fingers or to the leaf, it is done right! And you little ones can chase it on your little strip of the banana leaf. And careful, wait till it cools down, or you will scald your tongue. Halwa always tastes better if it cools down!"
The halwa shop was literally an iruttu kadai, neither posh nor well-illuminated (apparently they started it with kerosene lamps many decades ago, hence the name) and did not even have tables and chairs.
It was a small, clean, minimum lit, traditional place like the earlier generation who started the business, which always had snakelike long queues.
I am sure no one actually thought about why it never developed in to an up-market stylish outlet; all we thought of is how to get our slice of sweetness, unique to the place. The last I visited, it was dark but still 'sweet'!
Probably memories, happy moments and a childhood ritual held close to my heart could make it a little nostalgic, a little more precious, and personal.
One could argue that there are better versions, but, no, nothing can replace my iruttu kadai!

And then the other day my father called…
His voice had a little tremor, quite unlike him, but which he reserved only for sad news as the one he was about to break to me: you know the iruttu kadai shop owner…he has committed suicide, he said, swallowing his words.

I know my father must be feeling terrible too – his years in railways, numerous travels to the Nellai city, with us most of the times and other times without us to get us our monthly quota… you cannot return from Nellai without a packet of slippery slick halwa!

My father is not alone in his memories of the sweet iruttu kadai shop…there will be thousands who hold the taste in their hearts, rather than on their tongues…
But after sweetening the tongues of millions who have eaten from the iruttu kadai, the poor old man just went away, snuffed his own life, just like that, and leaving everyone perhaps with a sad, bittersweet taste.