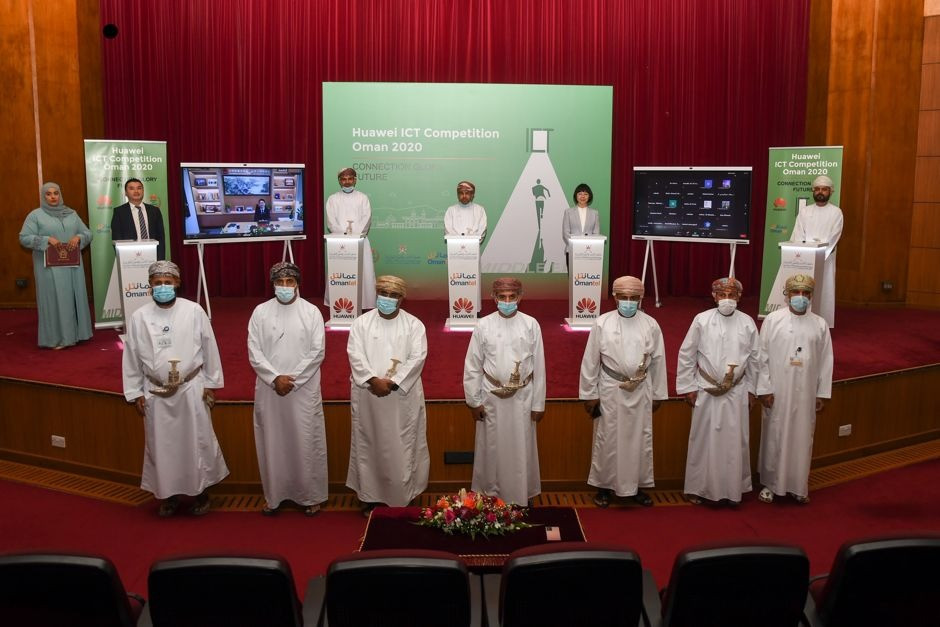 MUSCAT —Huawei is running the 4th edition of its flagship annual Middle East ICT Competition in Oman to support the next generation of leaders for an intelligent world, in line with the government national plans and strategies. The initiative underpins technology utilisation and aims to support socio-economic development by bolstering the overall ICT ecosystem through nurturing local talent; individuals who will be Oman's champions for achieving national development plans and ambitious visions for more sustainable knowledge-based economies. This year's competition is being held in partnership with the University of Technology and Applied Sciences and Omantel.
The opening ceremony was attended by Chinese Ambassador Li Lingbing, to the Sultanate of Oman, Omar bin Hamdan Al Ismaeli, CEO of the Telecommunications Regulatory Authority (TRA), Dr. Saeed Al-Rubaie, Chancellor of the University of Technology and Applied Sciences, Sheikh Talal bin Saeed al Maamari, CEO of Omantel, as well as various students, professors, and deans from different universities and colleges. Over 15 universities in Oman are participating this year.
Chen Bing, CEO of Huawei Tech. Investment in Oman, said: "Empowering Omani youth with global knowledge and new skills plays a key role in the future of socio-economic growth. Huawei is committed to the growing ICT value chain in Oman through local talent nurturing and open ecosystems building. We believe in openness, collaboration and shared success and put forward our best efforts to support the sustainable development of ambitious countries like Oman. We are dedicated to fostering innovative interdisciplinary talent by knowledge and experience sharing. Moreover, by offering participants access to online exchanges and learning, we can create more equal opportunities for quality education, enabling more people to benefit from the digital economy."
Talal Said Al Mamari, CEO of Omantel said:" We aim through this partnership with Huawei and University of Technology and Applied Sciences to build ICT capacities among future generations and provide an innovation and entrepreneurship conducive environment to achieve Vision 2040 and build a knowledge-based economy. We are confident that by working together with stakeholders form the industry, government and academia, we can create a supportive ecosystem for such initiatives. Omantel being the leading provider of integrated telecom services in the Sultanate seeks to leverage on its own capacities, reach and partnerships to support the efforts being made to build the capacities of our young people and bring a brighter future for them".
Dr. Said Al-Rubaie, Vice Chancellor of the University of Technology and Applied Sciences, noted: "The ICT sector is a significant national industry promoting Oman's global competitiveness and economic strength. Private sector programs like the Huawei Middle East ICT Competition are highly valued in supporting these ambitions, developing indigenous innovation overall while nurturing a supportive environment for the ICT sector in particular."
The competition promotes creativity amongst students by acting as a bridge between the classroom and the workforce, enhancing students' future employment opportunities. The training and competition tracks for this year—held under the theme "Connection, Glory, Future"—focus on advanced technologies such as 5G, AI, cloud computing, and data storage, facilitating connections between international talent. In addition to sharpening student's own knowledge of these domains, the competition assists government authorities, colleges, and universities to identify and support the future leaders of ICT.
As a partner to this year's competition, Omantel's robust 5G service offerings will be used to support the online competition, including hosting of the opening ceremony on Huawei 's Idea Hub platform, a productivity tool for the smart office, and providing trainings for the registered students, and so on. There will also be live online broadcasts from Omantel's 5G bus, demonstrating 5G use cases in areas like cloud gaming, cloud VR, and 4K television.
Winners of the regional competitions will receive a certification, future learning opportunities, a USD$20,000 cash prize, and more.
Registration for the Huawei Middle East ICT Competition 2020 is now open through this microsite.