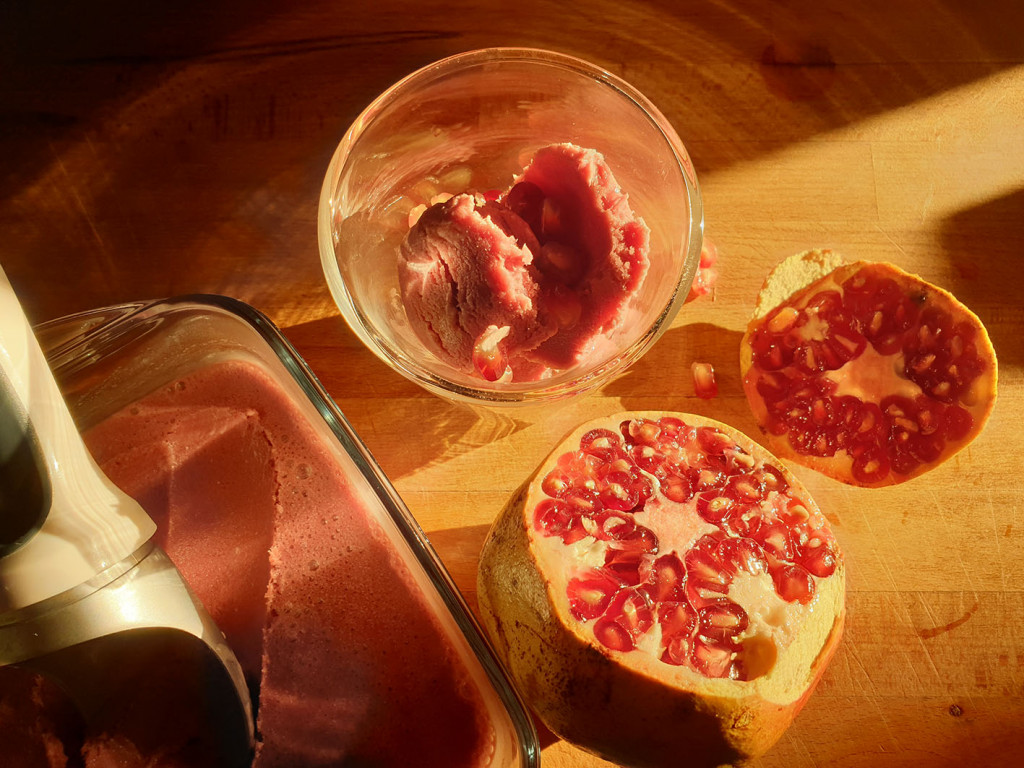 A few years ago I was gifted my first box of Omani pomegranates fresh from a farm near Nizwa. The fruits were as big as my children's heads and super juicy and flavourful. I could not believe that such amazing produce was growing just a few hours away but never reached any supermarket in the capital.
Symbolic of prosperity
Pomegranates are symbolic of prosperity and abundance in many cultures. They have been cherished for their beauty, flavour, colour and amazing health benefits for centuries.
Ancient superfood
Pomegranates are an ancient superfood. They are high in vitamin C and potassium, a great source of fibre, and low in calories. Not only delicious, pomegranates are one of the healthiest foods you can eat!
Fresh pomegranate juice is bursting with antioxidants. In fact the juice is high in three different types of polyphenols, a potent form of antioxidants. The three types – tannins, anthocyanins, and ellagic acid – are present in many fruits, but fresh pomegranate juice contains particularly high amounts of all three, which makes it a powerful anti-inflammatory.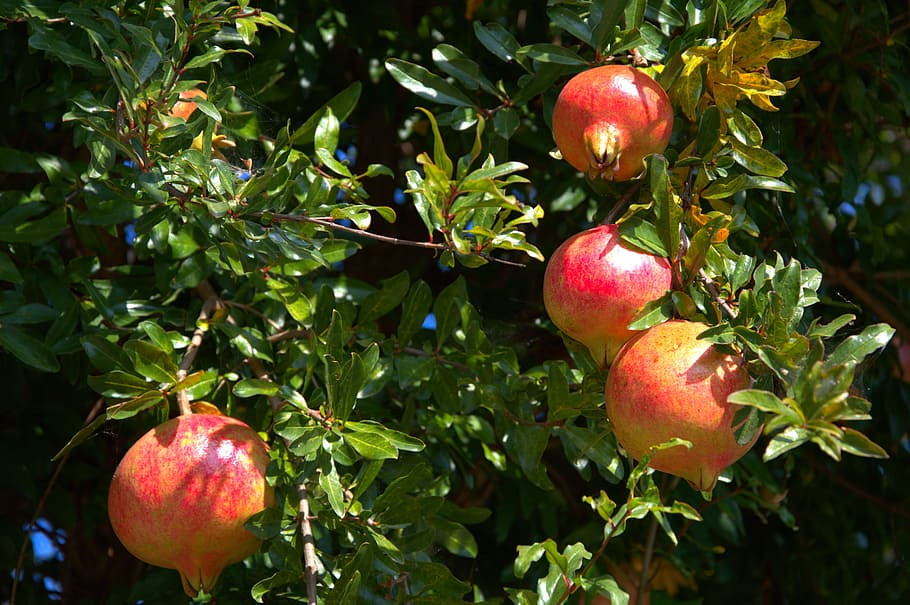 Heart healthy juice
The juice is considered one of the most heart healthy juices. It appears to protect the heart and arteries as it improves blood flow and keeps the arteries flexible. Please be aware that it might interfere with some blood pressure and cholesterol medications
Improves memory
Recent studies have found that drinking a glass of fresh pomegranate juice a day may improve your memory. So this is the perfect snack for the upcoming round of school exams. Whether you snack on fresh pomegranate arils (seeds) or drink the juice, feel guilt-free as you enjoy each delicious mouthful: you're doing your body a favour! Besides the arils, other parts are used. For example, the pomegranate blossom is crushed to make a red dye and the peel is used for dyeing leather. Whole pomegranates keep well at room temperature for several days and up to three months when refrigerated in plastic bags. Arils (seeds) can be refrigerated for up to three days. Freeze for up to six months in airtight containers. They often lose their shape and flavour when thawed. So it is best to freeze the juice in portions for upto six months.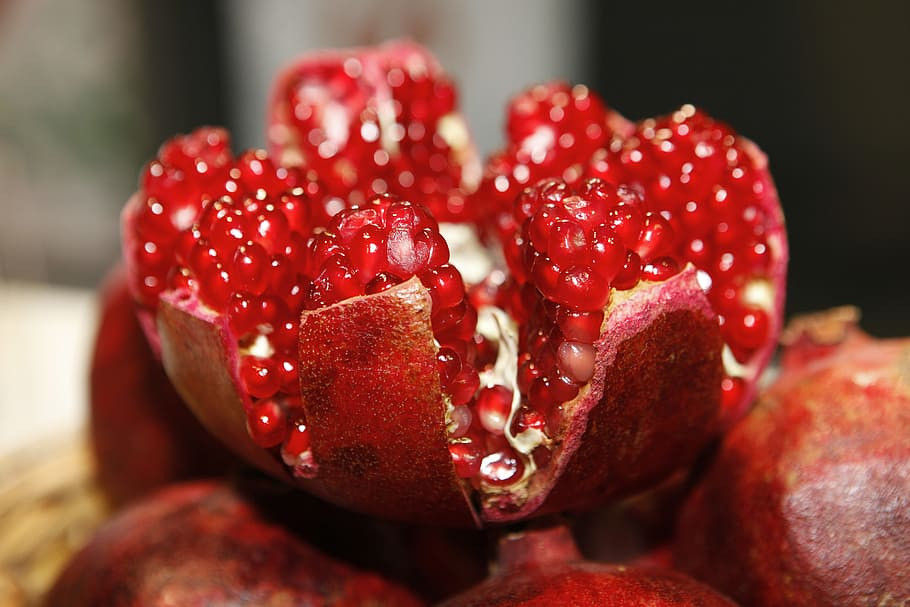 Pomegranate Gelato
Ingredients:
2 cups fresh pomegranate juice
½ cup mascarpone or Greek yoghurt
Method: In a small saucepan reduce the 2 cups of pomegranate juice down to 1 cup. Freeze the reduced juice in ice-cube trays. Place the pomegranate ice cubes in a food processor and blend briefly. Add the mascarpone and pulse until smooth. Freeze in a small container for 20-30 minutes before serving.
Haloumi pomegranate salad
Ingredients:
50g walnut halves
1 tablespoon honey
2 tablespoon pomegranate molasses
1 tablespoon lemon juice
2 teaspoons Dijon mustard
60ml extra virgin olive oil
1 package haloumi, cut in small cubes
1 bunch rocket leaves
50g baby spinach
1 pomegranate, seeded
Method: Scatter walnuts on baking tray lined with baking paper and drizzle with honey. Bake for 5-7 minutes in preheated oven (180 degrees centigrade) or until the walnuts caramelise. Whisk together the pomegranate molasses, lemon juice, mustard and 2 tablespoon of olive oil. Season with salt and pepper. Heat the remaining oil in a small frying pan and, add the haloumi and fry until golden brown for about 2 minutes. Combine the rocket leaves and spinach on a large platter, drizzle with the dressing and gently toss. Top with the haloumi, walnuts and sprinkle with pomegranate seeds.
About Siegrun Samira Rengert:
Siegrun Samira Rengert runs Filfil & Loomi with a mission to support parents and schools on how to bring up healthy children in Oman. Trained as a vegan chef, she organises farm trips for school kids, food educational sessions in schools and kindergartens, workshops for parents and encourage wholesome cooking for children – all through her social media. She is also a founding member of Slow Food Muscat, an international network, which promotes clean, healthy and fair food for all. In her earlier avatar, she ran the first cookery school for amateurs in Dubai, known as 'Cooking Sense'.