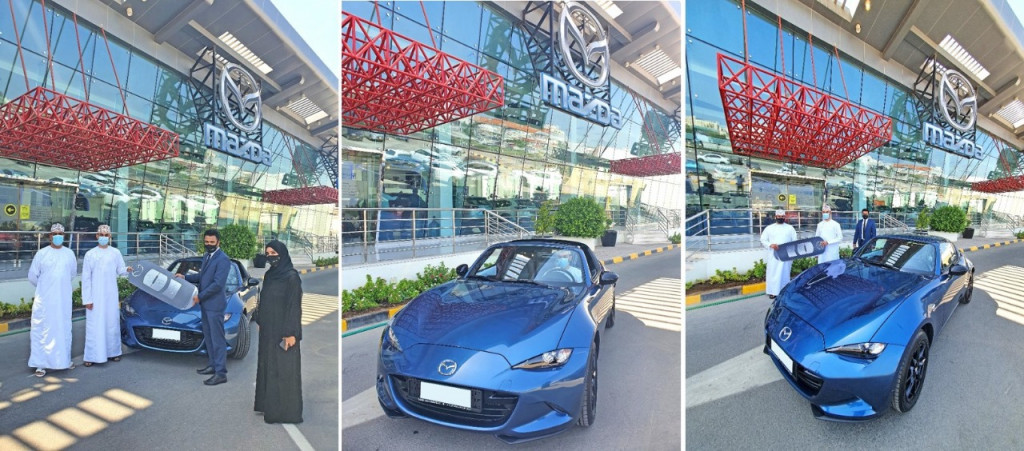 MUSCAT –  Abdul Malik Al Jabri, who recently purchased a brand new MX-5 Miata at the Mazda Al Hail Showroom, spoke of his personal experience driving Mazda's roadster, saying, "The newly launched MX-5 is a joy to drive. It is an exceptional lightweight beauty of a sports car. Its engaging looks, open-air driving style and overall sporty feel attracted me in the first glance itself. In addition to being a head turner, it comes packed with a powerful engine and a unique body design. Not to forget, the MX-5's amazing 50:50 weight distribution makes handling an absolute dream. On the whole the MX-5 Miata is a true sports car that delivers an exhilarating driving experience."

Mazda over the years has stayed true to their philosophy of making cars that enable people to celebrate the joy of driving or 'Hashiru Yorokobi', as put in Japanese. Strongly enforcing this school of thought, the Japanese automaker's cars are not just easy on the eye but also deliver a great performance on the road as well.

In Oman, TAC is recognised as a trusted name in customer service and a pioneer in the automobile business since 1972. A group company of the W J Towell Group, TAC takes off from the principle of its parent company and ensures the easy availability of high quality motor products coupled with the highest standard of service to its esteemed customers.

To find out more about Towell Auto Centre's showrooms and servicing centres, you can log on to www.mazdaoman.com, or just walk into any one of Towell Auto Centre's 9 Mazda showrooms situated across the Sultanate of Oman.