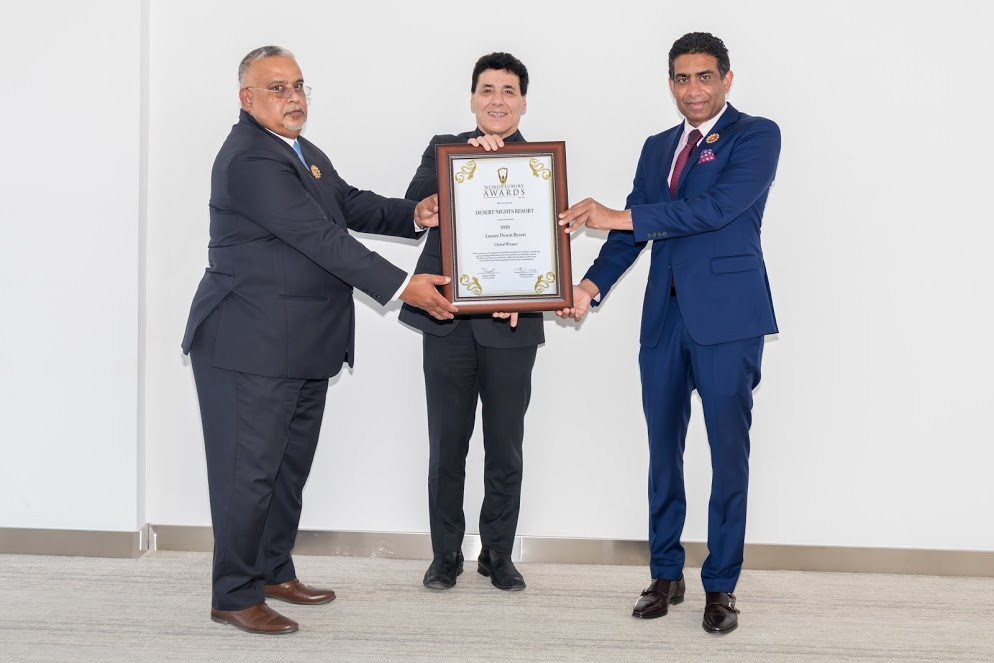 MUSCAT – Desert Nights Camp Oman, a popular boutique holiday experience, was accoladed as the Best Luxury Desert Resort 2020 by the prestigious World Luxury Hotel Awards at the recently concluded event.
Vying for the award among top contenders from world over, the award is a reiteration of the uniqueness of the resort and its superlative services offered. Known as the pinnacle of achievement in the luxury hotel industry, the World Luxury Hotel Awards is given to the very best within the industry as recognized by guests, travelers and industry players alike. Over 300,000 international travellers vote each year, during a four-week period to select the winners.
Speaking of the win, CEO Fred Vessali, CEO of Oman Hotels SAOC , stated "On behalf of OHTC I would like to congratulate Desert Nights Camp General Manager Anurin Jansen and his entire team for their passion and dedication in ensuring that our resort is the global winner of 'Best Luxury Desert Resort'.
This award is proof that our luxury resort meets the internationally recognised global standard. It will also provide us an opportunity to increase the value of our activities and improve our performance continually to ensure total guest satisfaction"
Aitken Spence Hotels Oman CEO Srinith De Silva also commended the team by saying "It is a great honor to receive an award from the globally recognized World Luxury Hotel Awards governing body. Being our first time to receive this award, it stands as a testament to Desert Nights Camp's continuous pursuit of outstanding service quality, and proves to be a great encouragement for the team who do their best to uphold our brand, thus making every guest's stay a truly memorable one"
"It has been a tumultuous year given how the world has been affected by the Covid-19 pandemic and the major impact it has had on the hospitality industry. Winning the award of Best Luxury Desert Resort in the Global category has been a huge encouragement to our team. I want to extend my gratitude to Silva and Vessali for their spectacular leadership and positivity that they bring to the hospitality trade. We will continue to soar to great heights" said the Anurin Jansen, General Manager of the resort.
Dessert Night Camp provides a unique Arabian experience, bringing to life the perfect Arabian sojourn of your dreams. With 53 tastefully designed Bedouin-style luxury tents spread across 10-acres of silken land and the spectacular craggy mountains and endless dunes and crystalline wadis in the distance, the resort takes on an enchanted form for guests from across the world.
Owned by Oman Hotels S.A.O.C and managed by Aitken Spence Hotels (part of the Sri Lankan blue-chip conglomerate Aitken Spence PLC), the camp is an ideal base for your Arabian Desert adventure and is only a two hour drive away from Muscat, the capital of the Sultanate of Oman. The camp is looking to up its inventory by adding 35 more tents with luxury facilities and amenities including private plunge pools and an in-house luxury spa. The camp is operated under heightened health and safety practices following national and international regulations to ensure that guests are provided with a clean and safe environment for guests to explore and experience the property without any hesitation.