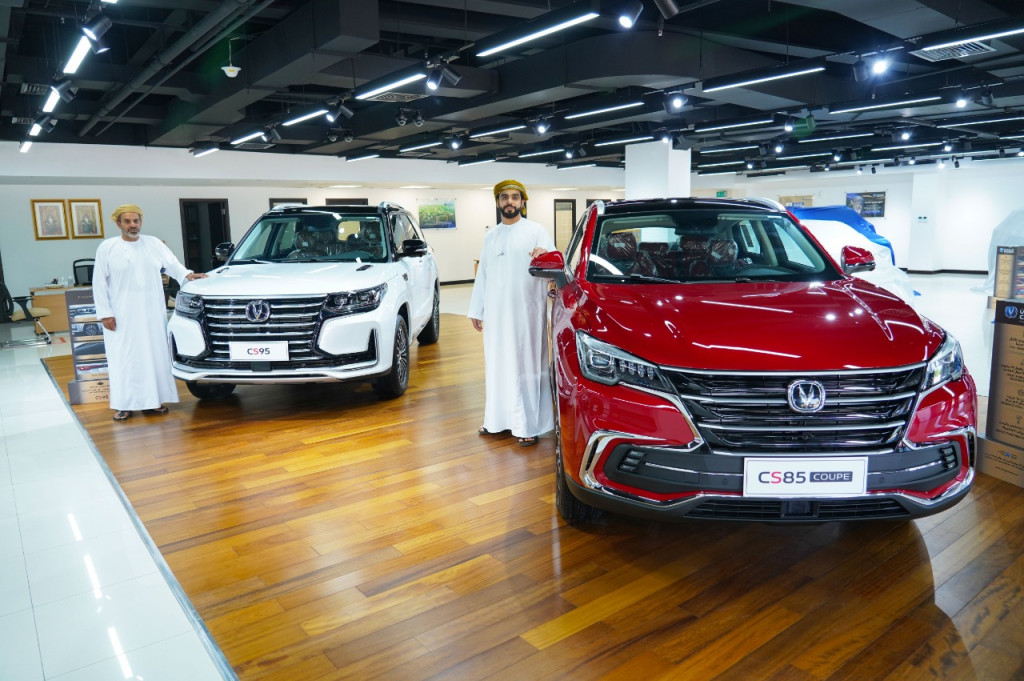 MUSCAT – Arabian Gulf Automobiles and Equipment LLC (AGAE) which is part of Bahwan International Group has announced a partnership with leading international automotive group CHANGAN Automobile Co. Ltd to bring its range of passenger vehicles to Oman. One of the 'big four' Chinese automakers of the world and a top selling brand, CHANGAN Automobile boasts of with a comprehensive portfolio of products which includes Sedans, Crossovers and SUVs.
Welcoming the partnership, Irven Li, Vice President of Changan Group said, "We are extremely happy to partner with AGAE, part of Bahwan International Group, a well-established name in Oman. CHANGAN has made a successful presence in key markets in GCC and now we are keen to introduce the brand in Oman. As part of our international network expansion we consider Oman a key market."


With an inspiring history of 158 years CHANGAN Automobile Group traces its corporate origins way back to the 1862 with 62 years of automobile making and 36 years' experience of manufacturing CHANGAN vehicles. It has 16 production bases in eight countries and 35 vehicle and engine plants globally. With 6,000 sales and service facilities in more than 60 countries, and more than 150,000 professional team members globally, the company believes in excellence in customer service. Registering a new milestone for the company, in 2019 CHANGAN-branded vehicle users exceeded 18 million.

Welcoming CHANGAN Automobile to Oman, Sheikh Ahmed Suhail Bahwan Al Mukhaini, Chairman of Bahwan International Group said, "Oman is emerging as a priority market for global automotive companies and we are delighted to bring CHANGAN, a leading global brand to our country. CHANGAN offers a captivating combination of the brand's impressive design, elegant interiors and advanced safety features. The automaker has also invested heavily in the research and development of new energy vehicles, focusing on technology development for conventional and hybrid vehicles. We are sure that it is deemed to be a best seller in Oman, setting the benchmark for functionality, technology and comfort."

Among the models launched in Oman are Hi-Tech and trendy, efficient and clean, safe and smart: CHANGAN CS 95: A high performance seven seat SUV; CHANGAN CS 85 Coupe: a high-end SUV; CHANGAN CS 75: SUV with luxury cabin; CHANGAN CS 35 plus: An Interactive and social SUV and CHANGAN Eado: C-segment family sedan.
Arabian Gulf Automobiles and Equipment (AGAE) which is part of Bahwan International Group has set up a spacious and state of the art Showroom in Al Qurum and Service centre in Ghala, Muscat. AGAE has already tied up for Periodic Maintenance Services in many cities including Salalah, Sohar, Sur, Nizwa, Ibra and Barka etc. CHANGAN OMAN offers 5 years or 150,000kms manufacturer warranty on all passenger vehicles in Oman.
For more information call CHANGAN OMAN Toll free number 80050800, WhatsApp on 94641010 or visit our showroom in Al Qurum. Also you can visit and register at www.changanoman.com to Book Test drives and call back.