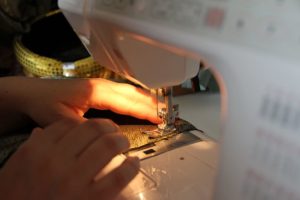 By Maimuna Al-Sulaimani
They say a journey of thousand miles begins with a single step.
Nations progress, communities thrive and economies diversify when small businesses bloom.  Societies are tested every time and I believe that is how the communities mature; preparing themselves to survive and grow contributing their mite in more ways than one.
Spread of sustainability culture
Even small, this initiative of making masks locally, reflecting Oman's own traditions, is definitely a proof of the sustainability culture in our society. All of us know that the contribution of women is critical to economic growth and community stability. And a woman's economic independence holds significant relevance for sustainable business.
Homemade micro business
Imagine a group of young and old women, all coming together for a homemade micro business, while also tending to their multi tasking functionalities… who else can venture into an initiative like this other than a woman?
Our beloved former leader, Sultan Qaboos bin Said (May his soul rest in peace) has encouraged the women to shine in their own fields, and given them a day of their own: October 17. But, seeing a woman step out of her home to join a group of women with similar skills and minds, to create a business that gives back to the community, actually reflects the strength of the society. Small businesses show the way to sustainable growth of the economy, village by villages, city by city and nation at large. It is no wonder these initiatives bloom under the support of the families and the whole village itself.
Every little contribution makes a difference
Everyone has a role in this society, and none of it is small or big or can be measured with the same yardstick. It is when each individual stands up and takes up responsibility on their own, towards their selves, families and community, miracles happen. Perspectives will be altered, lives will be changed and when communities thrive, the nation progresses.